Using this as a general post for commission info. Most of this is a copypaste from my tumblr commission information page that you can read here if you wanna. There are some examples of
Commission inquiries should be sent to mangermanagement@gmail.com with the headline being something about commissions and thhe subject including as much reference as you deem neccessary alongside what type of comission you'd like.
---
OPTIONS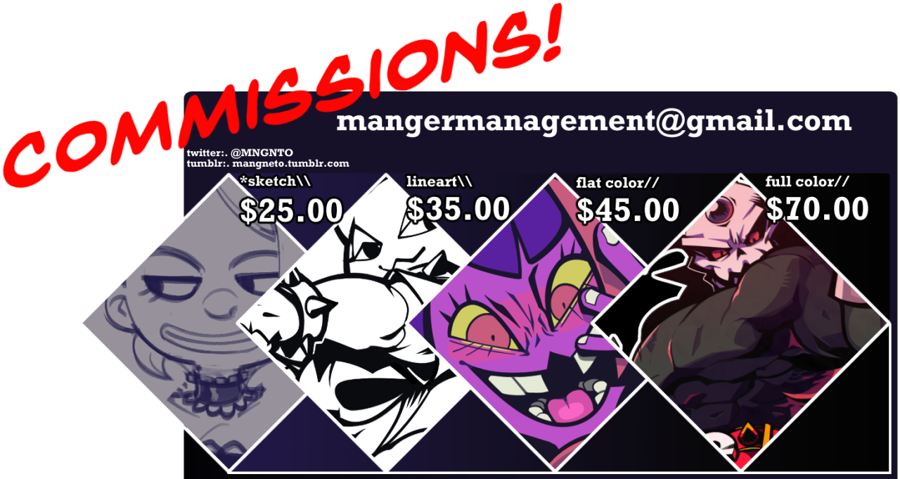 ---
IMPORTANT STUFF
Multiple characters will increase the price of your commission. 2 characters will be a little less than double, 3 characters are a little less than triple.
 Character complexity and backgrounds may raise the price of your commission.
 I'm down for doing NSFW content, but try not to go too overboard. I'm fine with cheesecake and nudity and other such content. I'm pretty open for discussion regarding these, so if you're unsure please ask so in a DM or email. I probably won't post anything of that nature that I don't normally post, so keep that in mind.
Sketch commissions are to be paid up front.
---
"How should I pay you?"
 All payments will be through Paypal.
Aside from sketches, all payments must be made
ONLY AFTER
you receive your WIP sketch. After I receive payment, I'll finish the commission and send it to you via email, then post it (unless you'd prefer me not to, in which, please say so!).
***Please do NOT send me money, (ESPECIALLY BEFORE YOU GET YOUR WIP)!*** Wait for me to mail you an invoice, then pay that way!
I apologize if it's a little inconvenient, but this is for your sake so you don't pay for something I'm unable to complete!